Patient education brochure
Downloadable resource to support discussions with parents and caregivers.
Share this resource with caregivers to provide important information about VAXELIS.
This resource contains information on the following topics:
What VAXELIS is
Which diseases VAXELIS can help protect against
Why their child might need a vaccine like VAXELIS
How and when VAXELIS is administered
Important Safety Information for VAXELIS
It is important to remind caregivers that with VAXELIS, children get at least 2 to 3 fewer shots during their first 6 months of life than they would with certain other routinely recommended vaccines.1-3
For hard copies, please reach out to your local representative.
aOver the vaccination series during their baby's first 6 months.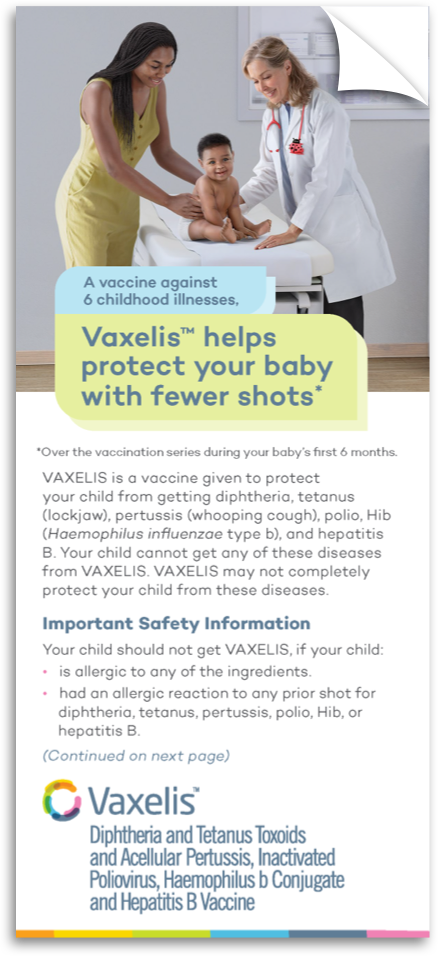 Additional topics to explore

References: 1. Pentacel. Prescribing Information. NDC No. 49281-511-05. Sanofi; 2022. 2. PEDIARIX. Prescribing Information. GlaxoSmithKline, Inc.; 2022. 3. Centers for Disease Control and Prevention. Recommended child and adolescent immunization schedule for ages 18 years or younger, United States, 2023. Accessed June 6, 2023. https://www.cdc.gov/vaccines/schedules/downloads/child/0-18yrs-child-combined-schedule.pdf